Bio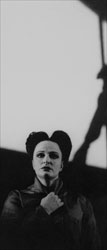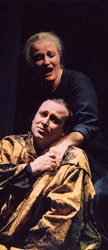 Arriving in Germany to continue her studies at the Folkwang Conservatorium, Essen, Suzanne McLeod's first audition in Europe resulted in the offer of a solo contract at the Theater-Muenster, where she has since been granted permanent tenure. She has had the opportunity to sing many of the greatest roles in the mezzosoprano repertoire, from Angelina in Rossini's "La Cenerentola", Bizet's "Carmen", and the Composer in Strauss's "Ariadne auf Naxos" to the more dramatic repertoire of Wagner, Verdi and Strauss, including Eboli in "Don Carlo", Ortrud in "Lohengrin", and Fidès in Meyerbeer's "Le Prophète".
Opera houses in which the Australian mezzosoprano has guested include Bonn, Bremen, Cologne, Karlsruhe, Mainz, Oldenburg, Osnabrück, Weimar, Wuppertal, the English National Opera and the Metropolitan Opera, New York.  She has participated in the productions of directors such as Dietrich Hilsdorf, Robert Carsen, Lorenzo Fioroni, Gabriele Rech, Philipp Kochheim, Fred Berndt, Heinz-Lukas Kindermann and Roland Aeschlimann. She has appeared with conductors such as Peter Schneider, Sir Jeffrey Tate, Lothar Koenigs, Rainer Mühlbach, Catherine Rückwardt, Will Humburg und Ivan Törz.
Suzanne McLeod was born in Sydney, Australia. Before being awarded the Graduate Diploma of Opera at the NSW Conservatorium of Music, she completed her Bachelor of Arts/Archaelogy at the University of Sydney.  While still a student, she was chosen to take part in performances at the Australian Opera (including Handel's "Alcina" and Mussoursky's "Boris Godunov"), as well as appearing as a soloist in radio broadcasts and televised opera.